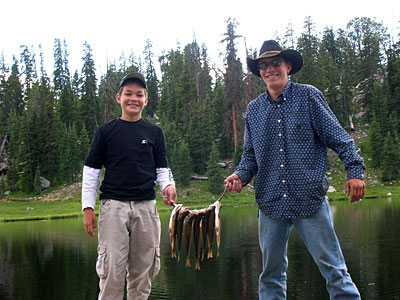 Thomson Outfitters offers Wyoming Trout Fishing trips to individuals and groups interested in catching a great selection of fresh brook trout and brown trout. Our Wyoming fishing options are integrated into many of the daily and weekly pack trips and horseback rides we feature. As part of a base camp stay, you can ride horses to excellent fishing streams and scenic mountain areas. Or, choose a day horseback ride for the entire family and bring your own fishing pole and camera to capture the beautiful views.
The experienced guides and outdoor specialists at Thomson Outfitters are prepared to provide the absolute best Wyoming trout fishing experience possible. The fresh streams that run through the mountains of Pinedale are swimming with brook trout and brown trout, all easy to catch and delicious to keep. If you choose to visit us during the early spring or late fall when water temperatures are still cool, the fish are active and energetic -- and even easier to hook.
Wyoming fishing is at its best in the Green River, located an easy walking distance from our base camp. Bring the whole family along and enjoy a full day of trout fishing among the picturesque mountains. We also offer private lease stream fishing for those interested in taking their hobby to the next level.
To learn more about Wyoming fishing trips and hunting trips with Thomson Outfitters, see our Pricing page and the selection of Wyoming Trout Fishing options available to our guests.
Enjoy Brook Trout Fishing
The area abounds with blue ribbon trout fishing streams! The Green River is within easy walking distance from base camp. Or join us for a horse ride and guided trout fishing in the high country. In addition to the Bridger Wilderness, we also offer private lease stream fishing.
Thomson Outfitters are your guides for trout fishing in Pinedale, Wyoming. We offer professional guided trout fishing trips in the Wind River mountains and Green River in Wyoming. With our valuable information for trout fishing you can enjoy fishing in the trout water of Wyoming. Trout fishing in Wyoming can be very rewarding, if you know where and how to fish here. So if you are planning on trout fishing in Pinedale, Wyoming and need information or a guide, you're at the right place.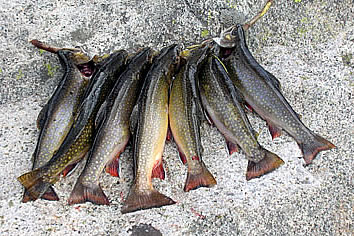 Enjoy trout fishing and horse riding during the day, and return to base camp for home cooked suppers and breakfasts!
What ever your fishing passion is when it comes to trout fishing - Thomson Outfitters can provide you with the opportunity to enjoy brook trout fishing in Pinedale, Wyoming.
Brook trout are found in colder streams of Wyoming. The brook trout is very beautiful and voracious, and it changes its color according to the food it eats. It is greenish brown, sometimes iridescent, with light and red spots on its loins and the upper part of the head.
Brown trout and brook trout are easily caught near the shore during fall spawning runs. They feed on aquatic and terrestrial insects. Larger brook trout will eat small fish if they are available. We find brook trout are easy to catch, especially in the early spring or late fall when cold water temperatures keep the fish very active. The table quality of brook trout is delicious.